Dick Rintjema
on De Hoop
in Bennekom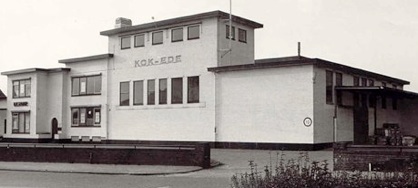 Dick: my father was a butter maker at 'De Hoop' and I worked there too in my holidays. I got to know the factory like the back of my hand.
In 1967, the site was taken over by Kok-Ede. It was initially used as an extra distribution centre, but doubled up as a custard factory. In 1975, the custard machinery was moved to the new Kok-Ede premises on Frankeneng."In 1933, they built a dairy factory on Molenstraat (then called Veenderweg) in Bennekom to process the milk from 170 local dairy farms. At the end of the sixties, all milk processing was concentrated in Wageningen, so the factory in Bennekom became surplus to requirement.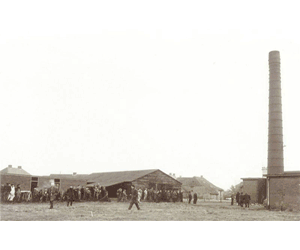 Photos: Henk Mattijsen'De Hoop' was put to a new use, but the name remained the same.Van Engelenhoven from Ede was hired to do the job.At 15.45 hrs. on 18 January 1967, the chimneys were taken down; the flue was no longer needed.
Up until the early eighties, the building was used for preparing and packaging vegetables and meat – UniVers produce. And every year between September and January, ten thousand Christmas hampers and gift packages were assembled there.
In 1985, Kok-Ede was bought by Albert Heijn and the 'De Hoop' building was sold to the Driesten construction company. They demolished the 'UniVers terrain' to build houses.
Want to know more about this history? Click here to go to 'De Hoop'.
En lees meer over een bijzondere werknemer, meneer Postma, die jarenlang op "De Hoop" heeft gewerkt. Hieronder het begin van een interview van de Rubriek – WIJ SPRAKEN MET: –
van een Kok-Ede personeelsblad uit 1974.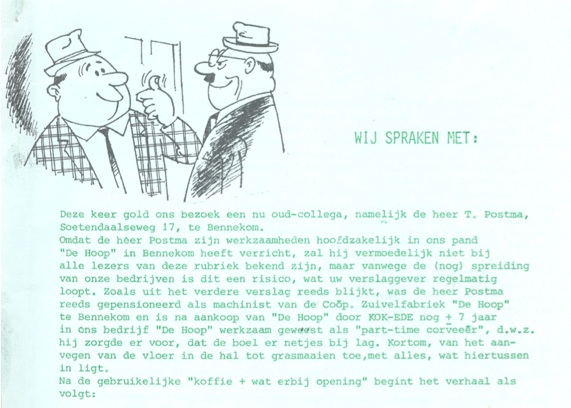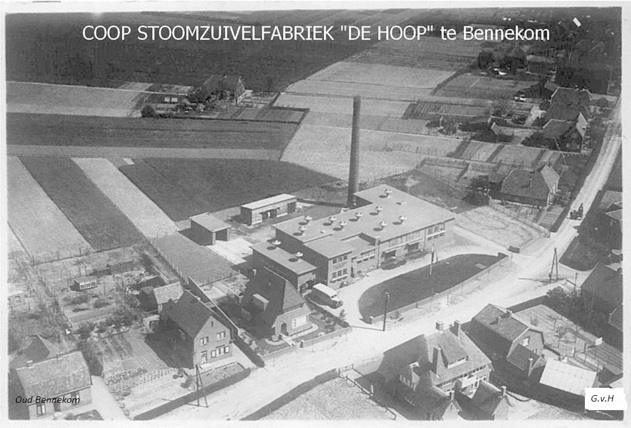 Watch a movie from 1967 about Kok Ede's De Hoop, Bennekom
Created by Dick Rintjema