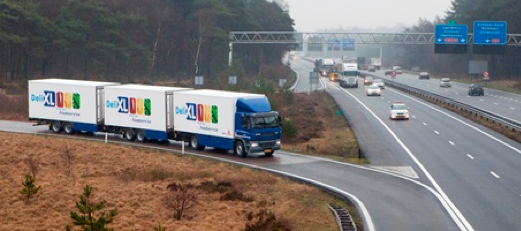 Deli XL is a total supplier for the food service market. We provide our customers in the restaurant, catering and care sectors with reliable supplies, a total range of products and many additional services.
Our passion for food and for service helps us towards healthy results. Healthy for our staff, our customers and our business. Our forward thinking is evident from our active and responsible relationship with our employees, our customers and society.
Facts and figures:
Mission: Deli XL – First for Food service; a healthy company for staff, customers and society.
Branches: 16, head office in Ede.
Market share: approx. 11%.
Turnover: approx. 725 million Euros.
Staff: approx. 2,000.
Lorries: approx. 350.
Customers: approx. 30,000 in restaurant, catering and care sectors. These include hospitals, nursing homes, company restaurants, caterers, restaurants, lunch rooms, hotels, cafeterias, fast-food outlets, theme and bungalow parks, zoos, conference centres, convenience stores, etc.
Product range: approx. 60,000 items from approx. 800 suppliers. Fresh produce, groceries, frozen and non-food. Own private labels include Deli XL house brand, Fresh4You (portion packaging), Kook (convenience), Vers&zo (fresh and pre-cooked), Reuser & Smulders (coffee and tea products).
Additional services: include food & beverage and fast service concepts (KiesKlaar, DailyBreak, Angliss), assortment analyses, profit tools and advice on hospitality.
Participation: Deli XL has minority interests in the following fresh produce companies: Van Gelder Groente & Fruit, Farm Fresh (Van Brussel en Lebouille), Van Bennekom Vlees, Prime Meat, Eetgemak and ATL Seafood. Deli XL also takes part in internet activities such as Vers 24/7.
Board of directors: Dick Slootweg (Managing director), Hans van der Ster (Director of operations) and Boudewijn Heineman (Financial director).
Deli XL is part of the Bidvest Group Limited (Bidvest). This international service, trade and distribution business has companies on five continents and employs more than 100,000 staff. Deli XL comes under the Bidvest Food Service division, which takes care of the food service activities.