Arie van Harselaar:
everyone in Ede knows Transport XL at Deli XL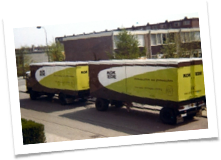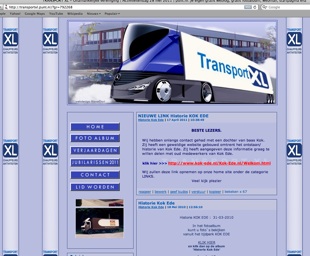 Arie explains how Transport XL came about. He is a special member of the Drivers Association at Deli XL in Ede.
"We set up a drivers association at Kok Ede in around 1983.
It had almost fizzled out by late 2008, so we decided to breathe new life into the association.
From that point on (2009), the association was called Transport XL, which fits in well with the current name of the company. Our department is still on Frankeneng.
The department still employs a lot of people from Kok Ede; 25 or 35 years of service is not unusual here.
Our Transport XL site is still tentatively attached to Kok Ede.
A few years ago, before he died, I spoke to Mr Kok at a funeral he was attending with Cees Burger (for Wim Beukhof).
I told him that wherever I happened to be in the country, a week never went by without hearing the name Kok Ede. This was also true of staff in organisations that had never actually dealt with Kok Ede themselves, but knew the name. Mr Kok was amazed that our customers still remembered him and his company.
Nowadays, there are fewer and fewer.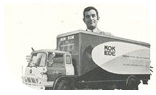 Mr Kok admitted that it had been a pity that the company name had been changed when it was taken over by AH. But Deli XL's roots will always be in the old Kok Ede.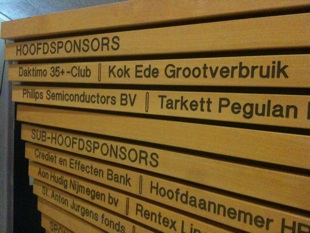 This photo shows exactly what Arie meant.
A wooden sign in the reception area of the CW Hospital in Nijmegen shows the main sponsors:
Kok Ede Grootverbruik…
… no longer exists… but the sign is still there in 2011!!
Want to find out more?
Read interesting stories about the activities of a very special Drivers Association in Ede. Enjoy the photos of the 'history' of Kok-Ede transport, which developed into the Transport XL at Deli XL that we know and love today.