Jaap de Vries: I suddenly
became the bread-winner
at 18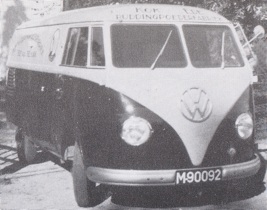 Jaap: I worked for Kok-Ede as a driver from 1962 until 1965, starting in the VW van and finally driving a Bedford 7-ton truck.
"Before this, I had spent 2 years working for my father, who had his own distribution company and regularly carried loads for Kok, particularly Eurovit products (wall filling) and custard powders.
I first met Mr Kok at Klaas Katerlaan.
In December 1962, while waiting for the ferry at the Hembrug in Amsterdam on our way to Wormerveer, my father was suddenly taken ill, collapsed and died.
Mr Koomen came from Amsterdam to pick me up and another driver drove our lorry to Wormerveer. Mr Kok instructed Mr Koomen to take me to his office, where he listened to my account of events and escorted me home to tell mother the sad news. No music was played in the factory during the week immediately after my father died.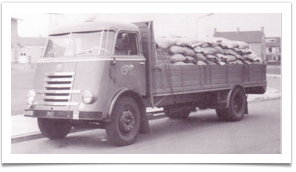 A few of the anecdotes I remember best: there was the time I lost my passenger!! To make things easier, I'd fixed the door handle so that he could open the door by pushing it down when he needed to get out instead of having to pull it upwards. We'd just delivered some goods to a monastery and in a left-hand bend, his elbow accidentally touched the handle and he fell out of the car… Luckily he didn't hurt himself.
Once, when we were delivering a consignment of toilet paper to a new, modern hospital, he fell in the hall carrying two huge boxes and all the toilet rolls started rolling through the hall. Little did he know, but this hospital had modern doors that opened automatically as you got close. As he approached them, he turned round in order to open the door with his elbow and back his way into the opening, but the door had already opened by itself and he fell into the hall.
I also remember a lorry getting stuck in the factory garage once. It had been so weighed down that once it was unloaded, it rose up and got lodged against the roof. They soon found a solution by loading the factory staff into the trailer to make it heavier, thereby lowering it. When this wasn't enough, they persuaded the office to get in too until they managed to drive it out.
As you can imagine, Mr Kok has a very special place in our family's hearts.After consultations, it was decided that the company would buy our lorry and that I would be offered a full-time job at the same salary as the best-paid driver (B. Varenhout or M. Lieftink). All the other drivers were in agreement, as at 18 years of age, I had suddenly become the sole bread-winner for a family with 6 children.
The next story makes you think. After leaving the factory in their lorries, some of the drivers used stop off at a particular café for a cup of coffee. They continued to do so even after they had been told not to. One morning, Mr Kok drove to the café. He parked his car next to lorries and waited until the drivers came out. The passengers were instructed to return to the factory and a drivers meeting was convened for that same evening. The message couldn't have been clearer: if they ever stopped at this café again, they would be dismissed without further warning…
As a good Catholic, Mr Kok had all his lorries blessed and doused with holy water. The key fobs for the company fleet featured a saint.
My most personal memories of Mr Kok relate to the fantastic way he stepped in after the death of father. He regularly asked after my mother and the family, and helped us by allowing us to do our shopping at cost price. Every year, he came round to bring us a Christmas hamper in person.
A company outing. Jaap is second from the left. Dick van de Mast is sitting below Jaap.
Benny Theuvenet is leaning against the street lamp. To his right is Janny, with Piet Zoutendijk in front. Ben Lieshout is on Piet's left (in row 2), and Gijs Versteegh on his right.