I'm still surprised by some of my memories when I look back on 20 years working for Kok-Ede.
First of all, I am astonished at the powers of persuasion shown by Cor Kok, who managed to entice me away from my job in furniture, which I had loved and cherished for 30 years. He persuaded me to come and package custard powder and other articles for his company, so he must have made a reliable impression on me at the time. He certainly proved his trustworthiness on numerous occasions in the years that followed.
Another thing that amazes me is that despite the scarcity of work in the early days, he was always able to reassure me by saying: "Van Kooten, this time next year we'll have more work than we can cope with." Once again, he was proved right. But let me start at the beginning.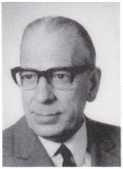 I came to Rippen Ede via Rippen piano factory in The Hague. We moved to Slunterweg and Annie and Cor Kok were our new neighbours. They were warm and welcoming people and in this case, we all agreed that a good neighbour was better than a distant friend. We looked after each other's children and borrowed food from each when suddenly faced with unexpected visitors.
When Cor asked me to come and work for him, I had to think seriously. At first, there wasn't enough work to fill a whole week so I spent many a spare hour building an aviary and chicken run in the garden of the white house. I didn't tell my wife because I didn't want to worry her; I wasn't totally convinced myself. But Cor Kok was right. Within no time, we had more work than we could manage. The machine, which 'did' 75 packs of custard in a minute, was soon replaced with another machine for packaging sugar for C.S.M. and Dinteloord
as well as soups for Honig and various other products for Conimex. Packaging 6,000 kilos of caster sugar a day into pound bags was particularly hard work.
We started to use other premises: Verlengde Maanderweg, Waterlooweg, storage on Bettekamp, Brouwerstr, etc. The thing I remember most about this period was the great atmosphere on the work floor. Meetings were held on Sunday mornings after church; we simply didn't have enough time during the rest of the week.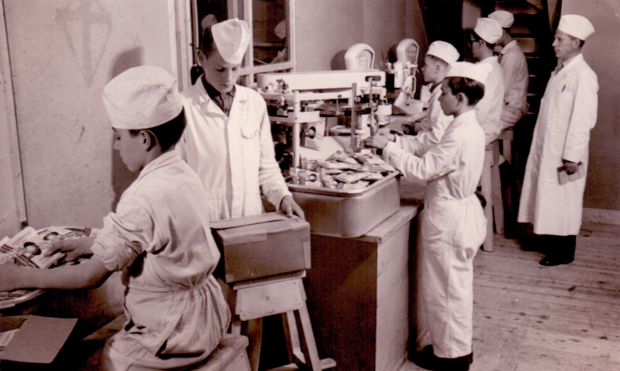 There wasn't always enough money to pay for overtime, but to my mind, he made up for it in other ways. The pension fund, the Christmas hamper and bonus and the staff association, which was set up and fervently supported by Cor Kok himself. All these fringe benefits were well ahead of their time. Within a few years, the packaging department employed some 60 staff, and even then, they still had to work through the night on occasion.
Relations with Cor Kok were still good. He wasn't always an easy man and we sometimes had fairly hefty arguments, but neither of us ever bore grudges. Cor wants to win. He doesn't accept the word 'lose', even when it comes to billiards.
The fifth anniversary party when Gijs en Marius Hazeleger won that air trip also stands out in my memory. Cor Kok asked whether I'd like to go too, as a sort of chaperone. I remember saying: "If I'd be doing you a favour, I'd be more than happy to go". The trip was a huge success for all concerned.By the time we moved to Frankeneng, the company was huge and relations between the staff had slackened off. Having said this, it was a huge event for all of us. I remember the new machines, which turned out to be inadequate because of a technical problem that couldn't be tested. Thanks to our experience and enthusiasm, we managed to overcome even this obstacle.
But for now, I wish Cor and Annie many years of good health and the chance to sit back and enjoy all the beautiful things around them.
C. van Kooten.